| | | |
| --- | --- | --- |
| | THE FOUNDER | |

More Photos

Biography

Audio Archive

Tele Prabhupada

Other Books (on-line)

His Divine Grace A.C. Bhaktivedanta Swami Prabhupada, founder of International Society for Krishna Consciousness. Prabhupada is a spiritual master in the line of teachers known as the Brahma-Gaudiya sampradaya, which originates with Sri Krishna, God Himself. Krishna appeared on earth about 5,000 years ago. More recently, the line descended from Sri Chaitanya Mahaprabhu, the incarnation of Krishna who appeared in Bengal, India, about 500 years ago. He spread the prescribed religious process for this age, which is called Kali-yuga, the age of discord and hypocrisy. That process is the chanting of the holy names of the Lord, especially as found in the Hare Krishna mantra:

HARE KRISHNA
HARE KRISHNA
KRISHNA KRISHNA
HARE HARE

HARE RAMA
HARE RAMA
RAMA RAMA
HARE HARE


| | | |
| --- | --- | --- |
| | USER INFORMATION | |
| | | |
| --- | --- | --- |
| | DONAZIONI - DONATE | |




Vuoi sostenere il servizio
di Radio Krishna Centrale ?
Fai una donazione, con
carta di credito o con
Paypal (account ricevente
Associazione Vedica):



Oppure seleziona la cifra desiderata dal REPARTO DONAZIONI e segui le istruzioni a video.
Altri metodi per sostenere RKC sono disponibili QUI !
La tua gentile offerta sara' utilizzata unicamente per mantenere i servizi di RKC Terni. Grazie molte !






Do you like RKC ? Make
a donation to keep our
services (receiver account:
Associazione Vedica)
Thank you very much !


| | | |
| --- | --- | --- |
| | RKC NEWSLETTER | |

Official Website of RADIO KRISHNA CENTRALE - Hare Krishna Portal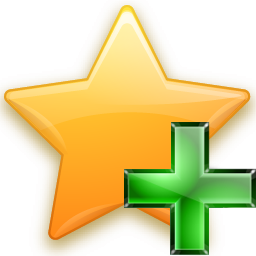 Welcome to the portal of RKC, Radio Krishna Centrale, based on the teachings of His Divine Grace Abhay Charan Bhaktivedanta Swami Prabhupada, 32th link in the disciplic succession of authentic spiritual masters called "Brahma-Madhva-Gaudiya Sampradaya" and founder of the Hare Krishna movement.





Here is a list of available Radio-TV stations:




Visiting our site, you can see that we are gradually inserting, thanks also to the cooperation for everybody you, many services of collective interest. The ideas is to allow whoever to have access to some genuine spiritual information, and to remain in contact with people who practices Bhakti-Yoga, despite the geographic distance: in other words, a kind of virtual temple. Who we are, goals of the site, services that were and will be instituted (continuosly increased) you can find them described in the various sections of the site.

For any comment, suggestions, request or other, please write to RKC Operating Office in Mayapur (India).
This site is often updated, so we suggest to visit it frequently.
Hare Krishna and enjoy with RKC !

BOOKS OF THE FOUNDER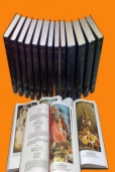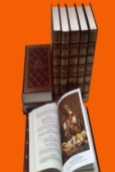 Bhaktivedanta Swami Prabhupada, founder and spiritual master of the Hare Krishna movement, has written more than 80 books on spiritual science of Bhakti yoga. Here are some of his major works in pdf format, free to view and download (courtesy www.krishna.com):


LISTEN TO AND DOWNLOAD ANY PROGRAM OF RKC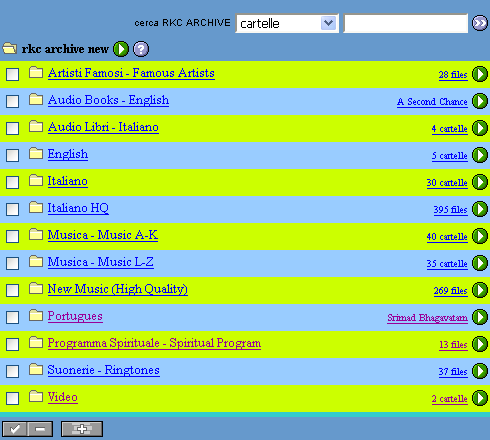 | | | |
| --- | --- | --- |
| | BOOKS ONLINE | |
| | | |
| --- | --- | --- |
| | INTRODUCTION | |
| | | |
| --- | --- | --- |
| | THE MISSION | |
| | | |
| --- | --- | --- |
| | Purpose of this site is to spread the trascendental knowledge, made available also in the Western Countries by Srila Prabhupada, of the fact that every living creature is an eternal spiritual soul, part and parcel of God, and that everybody can go back to live in the spiritual world, where there are no anxieties, with Krishna, the supreme personality of Godhead. How to do ? Click HERE to find it ! | |
| | | |
| --- | --- | --- |
| | UTILITIES | |